The American University of Beirut (AUB), in partnership with the Global Confederation of Higher Education Associations for Agricultural and Life Sciences (GCHERA), EARTH University and the W.K. Kellogg Foundation, launched the Transforming Higher Education project in response to the need to graduate professionals better prepared to contribute to the challenges of the 21st century. The project seeks achieve transformative change in selected and interested universities with schools or colleges of agriculture, which enables them to prepare university graduates as ethical leaders who serve society, who are creative and innovative problem solvers, which contribute to improving the well-being of their communities and countries by positively affecting the environment, promoting peace, understanding and respect for diversity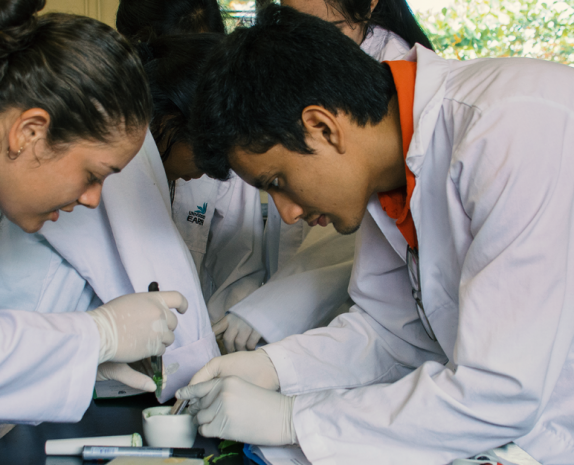 This change would be achieved through the systematic integration of the Five Key Elements of Success in the education system of universities, which are:

• Experiential / participatory learning
• University engagement with the communities.
• Problem solving and conflicts resolution through dialogue.
• Ethical and values-based leadership.
• Social entrepreneurial training and business development.

In the case of the pilot universities, we seek that with the successful introduction of the elements of success, the students impacted by the project put into practice the theory they learn in class, work hand in hand with the communities, create their own entrepreneurial projects and establish ties that allow them to contribute positively to the progress of society. As the project promotes the benefits and needs of transformative change, we share the innovations and university transformation experiences of the pilot universities and other universities through the GCHERA global network and support their efforts to initiate similar transformation.
With the premise that education is the best instrument for the advancement of societies and individuals, Transforming Higher Education arises to transform the current passive education systems, which do not adequately respond to the main modern needs, including the lack of social and community commitment.
The success of the project can be measured once the Key Elements of Success are integrated into the university educational system, generating graduates with soft skills capable of executing high-value ventures, focused on the sustainability of the communities.
The Project Advisory Board
Fadlo Khuri, President AUB
Ian Maw, Former Vice President, APLU Association of Public and Land Grant Universities
John Kennelly, Former President of GCHERA
Jose Zaglul, President of GCHERA and Founding President of EARTH University
Daniel Sherrard, Provost EARTH University (retired)
Ammar Olabi, Project Leader, Interim Dean of the Faculty of Agricultural and Food Sciences, AUB
Jim French, Project Director, Faculty of Agricultural and Food Sciences, AUB
Laila Houri, Project Manager, Faculty of Agricultural and Food Sciences, AUB
The project facilitators at the pilot universities
Mario Ben-Hur Chuc Armendariz, Technological Institute of Higher Education of Calkini, Coordinator of the Engineering Program in Sustainable Agricultural Innovation and Facilitator of the Project "Transforming Higher Education", Technological Institute of Higher Education of Calkini, Campeche
Jorge Luis Gamboa Alvarez, Technological Institute of Conkal, Project Facilitator
Daniel Alberto Pantí Gonzalez, Technological Institute of Higher Education of Hopelchén, General Director
Absalon Pierre, Qusiqueya University, Director of Program Development, Faculty of Agricultural and Environmental Sciences (FSAE) Quisqueya University (UniQ)
The American University of Beirut is a private, non-sectarian, and independent university chartered in New York with campus in Beirut, Lebanon. AUB is governed by a private, autonomous Board of Trustees and offers programs leading to bachelor's, master's, MD and PhD degrees. It addresses issues such as citizenship, policy-making, climate change, civil society, entrepreneurship, innovation and sustainable development to provide its students with the knowledge, skills, and ethical foundation to become successful leaders and agents of change locally, nationally and globally.
AUB leads the project and demonstrates the principles of university transformation at its own campus by implementing priority elements of success across the university.
GCHERA (Global Confederation of Higher Education Associations for Agricultural and Life Sciences), is a global consortium of 16 higher education associations encompassing a diverse network of over 900 universities dedicated to collaboratively addressing global food and sustainability issues.
It is a critical partner whose robust network of organizations and institutions offers innovative and successful cases of modern pedagogy and educational models to be shared among its members and the pilot universities. At the same time, many of its members recognize the importance of introducing innovative changes for the benefit of their graduates, communities and countries.
EARTH University, is a private, non-profit, international university which offers an innovative educational approach to prepare young people from Latin America, the Caribbean, Africa and other regions to contribute to the sustainable development of their home communities while building a prosperous and just global society. EARTH offers a world-class scientific and technological education emphasizing ethical entrepreneurship and strong socio-environmental commitment.
The W.K. Kellogg Foundation, is among the largest philanthropic foundations in the United States. Guided by the belief that all children should have an equal chance to thrive, WKKF works with communities to create conditions that help vulnerable children reach their full potential in school, work and life.
Other partners and collaborators
We wish to recognize several partners within the GCHERA Network and others that we are collaborating with and that are making significant contributions to project events and activities. They are GCHERA Member Associations and many of their member Universities and faculty that offer Innovative educational models and pedagogy and that have contributed to the project through its Webinar Series and Facebook Groups. Our work together and their contribution are critical to the Transforming Higher Education project's achievements.

GHCERA Member Associations
Asian Association of Agricultural Colleges and Universities (AAACU)
Asia Pacific Association of Agricultural Research Institutions (APAARI)
Association of Public and Land-Grant Universities (APLU)
Mexican Association of Higher Agricultural Education (AMEAS)
Regional Universities Forum for Capacity Building in Agriculture (RUFORUM)
Universities
Ashesi University, Ghana
Czech University of Life Sciences, Czech Republic
Iowa State University, USA
Nanjing Agricultural University, China
North Carolina State University, USA
Purdue University, USA
Tamil Nadu Agricultural University
The Australian National University, Australia
The Ohio State University, USA
UniLaSalle, Beauvais, France
University of Alberta, Canada
University of Wisconsin, USA
University of the Philippines, Los Baños
Wageningen University, The Netherlands
Zamorano University, Honduras